Melasma
Melasma or chloasma (also called "the mask of pregnancy") is a discoloration of the facial skin, often affecting women during pregnancy.
Symptoms of Melasma
The symptoms of melasma are:
Tan, dark brown patches
Irregular in shape
These patches usually develop on the upper cheek, lips and forehead.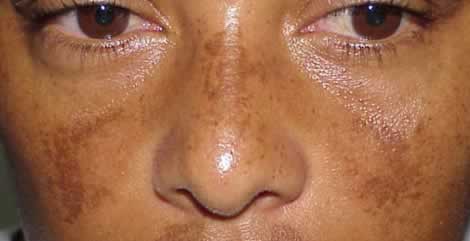 Melasma: skin discoloration usually seen during pregnancy.
Causes of Melasma
It is thought that female sex hormones causes melanocytes or the pigment-producing cells to produce and deposit excess pigments.
Who Gets It?
Melasma is commonly associated with pregnant women, women taking birth control pills, and those who are undergoing hormone replacement therapy (HRT). However, this condition develops spontaneously in some women who are neither pregnant, taking oral contraceptives, nor HRT medications.
Treatment of Melasma
The dark spots usually go away by themselves - however, this process can take a very long time. It is not unusual to have the condition persist for months or years after giving birth or stopping taking birth control pill.
Treatment to lighten the dark spots include:
Cosmetics to cover and hide the spots
Over-the-counter lightening cream with 2% hydroquinone
Prescription lightening cream with 4% hydroquinone
Tritenoin cream
Chemical peel using alpha-hydroxy acids
Laser treatment
Lotions with high SPF (sun protection factor) of 15 or greater should be worn if you have melasma, because sunlight and ultraviolet lights can make them worse.
---
---